BATHROOM REMODELING
Turn your outdated bathroom into a private sanctuary.
TOTAL BATHROOM MAKEOVER
Need ideas for your bathroom renovation? Let us help you turn your bathroom into a beautiful space. Limited spaces can prove challenging when it comes to design and renovation, and you may think you don't have a lot of options. Think again! Our design staff will make sure you understand all of your options. Plumbing fixtures and storage space are your main concerns, but don't forget colors and finishes to set the mood for your bathroom. Let our experienced staff guide you through your renovation and turn your bathroom into a place of relaxation.
No matter what your style is, db Home Improvements is here to help you through the design and installation process to create a beautiful and functional bathroom you're sure to love. Our four-step process breaks down your entire project from conception to completion. We carry multiple lines to suit your style and budget and will be there to help you decide on every finish, every fixture, and every piece of hardware. Whether you want to refresh your mirrors and tile, or knock down walls and remodel your bathroom from floor to ceiling, we are here to make your bathroom dream a reality!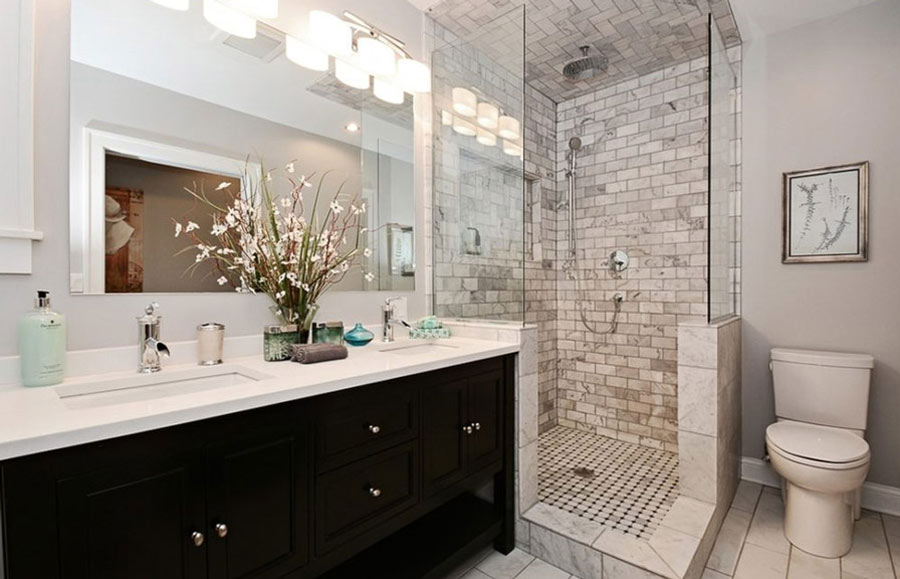 CUSTOMIZE YOUR BATHROOM
COUNTERTOPS
Choosing a countertop for your bathroom includes a lot of important factors. In the bathroom, style can take precedence over durability, as most bathrooms don't see much wear and tear like the kitchen will, but you will still want a countertop that can be easily maintained. Consider the use for your countertops – will a small vanity be enough, or do you need extra surface space when getting yourself ready? Do you need more than one sink? Tell us what's important to you and our staff will help you find the right solution for your bathroom renovation.
Our countertops are sold from top manufacturers. Choose from a range of materials and colors to complement your bathroom cabinet choices. We'll take all of the measurements for you. Each countertop is custom made to fit your vanity or cabinet space, and every piece is installed by our experienced installation staff. We guarantee a countertop that will last for as long as you love your new bathroom.
We carry: solid surface, granite, quartz, & cultured stone countertops for bathrooms.
VANITIES
Vanities are the cabinets used in a bathroom and usually accommodate plumbing and a sink combined with a countertop. Vanities are also used for storage and organization for bathroom items. We can assist you with all of the following aspects of the project:
Vanity cabinets
Vanity drawers
Vanity mirrors
Vanity countertops
Vanity lighting
Vanity sinks
And More
In the end, your bathroom vanity will be selected to meet your unique needs and we're sure you will thoroughly enjoy using your bathroom vanity for years to come.
TILE & FLOOR
When it comes to bath renovations, flooring tends to be one of the first things to go and be updated. It is very common for homeowners to choose tile for a bathroom because of its durability and easy maintenance qualities. Tile's durability covers resistance to heat, moisture, and foot traffic. Tile is also versatile in terms of style and comes in a variety of shapes, sizes, patterns, colors and more.
Porcelain and ceramic tiles are the most popular options for residential baths. Porcelain tile is denser than ceramic, so it is more resistant to moisture and even heat. Ceramic tiles are light-weight, budget-friendly, and come in a variety of colors. The durability of tile also plays a role, because they resistant wear and fade from frequent use.
Tile is not limited to just your floors and walls, we also offer shower tile options. Shower tiles are made to be extremely resistant to heat and moisture, and since they are tile, they are super easy to keep clean. A tiled shower in your bathroom not only adds style but also value to your space. You can transform your bathroom into a personal retreat.
CULTURED STONE
Cultured (synthetic) Products are a fantastic way to implement a modern look for your project and still remain cost affordable. We offer cultured marble, onyx, and granite so you can create a custom look that is tailored to suit your needs. Cultured products are an excellent surface for most applications because it is a waterproof, non-porous solid surface, with minimum seams. All products are made in the USA and can be installed grout-free.
Key Features
No grout or cracks – easy to clean
Stays free from mildew and germs
Dozens of colors and styles
Seamless design with no leaking!
Can be custom molded to fit any design
Time tested
Bathroom Remodel Testimonial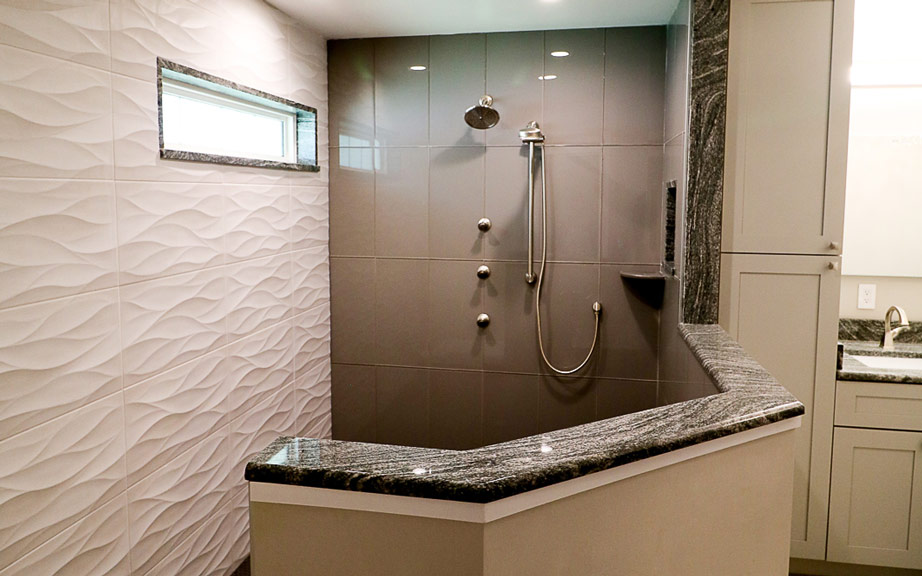 LUXURY BATHROOMS
For years, we have helped customers realize their dreams for bathroom remodeling and upgrades. Whether you are looking to design a sprawling master bathroom suite, add a small powder room or just a few upgrades, we provide you with everything you need to plan and execute your next bathroom remodeling project.
There is no doubt the bathroom is the most complex room in your home. Baths are a combination of all the typical home construction components, but it also includes a more electrical and plumbing per square foot than any other area of a house. We are sure to go the extra mile making you bathroom beautiful and functional bringing you decades of lasting enjoyment.
CUSTOMER REFERRAL PROGRAM
There's no substitute for experience. If you add up all the combined years of experience between all our team members, the results are in the hundreds. That's a team you can trust to get the job done exactly how you want it. If you are looking for a high level service company with quality workmanship that is a pleasure to work with give us a call. You'll be glad you did!